Homework
Need help with your homework? The library can help with locating information, free printing, copying and scanning, improve your reading with access to our Learn to Read collections in both print and eBook, and free computer access at the branch for word processing, internet access, as well as free WiFi and more.

---
Britannica Library
Use Britannica Library to conduct research, complete homework assignments and work on special projects. From within the one safe site you can link to an appropriate encyclopedia article, Britannica-approved Web sites, Journals & Magazines, Multimedia, Compare Countries, an Atlas, thousands of Biographies and other learning materials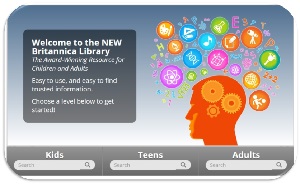 Click the button to access the Britannica Library. Free access with your library card.
---
Home Reading
Search the library for our Learn to Read collection of books here
Download free eBook home readers here
---
Premier's Reading Challenge


Borrow books to help you complete the Premier's Reading Challenge.
Search for books here
Search for eBooks here
---
Printing, Scanning & Copying
Need to print your homework, scan something or make photocopies. Do it all for FREE at the library (limit 5 prints or copies in black &white or colour for homework only)
---
Word Processing & Internet Access
Use the library computers to access the internet, create documents using Microsoft Office (Word, Publisher, Excel), print homework and more. Access is free for members.
---
WiFi Access
Bring your own device and access the WiFi at the Library. Free for members.
---