Flood recovery donations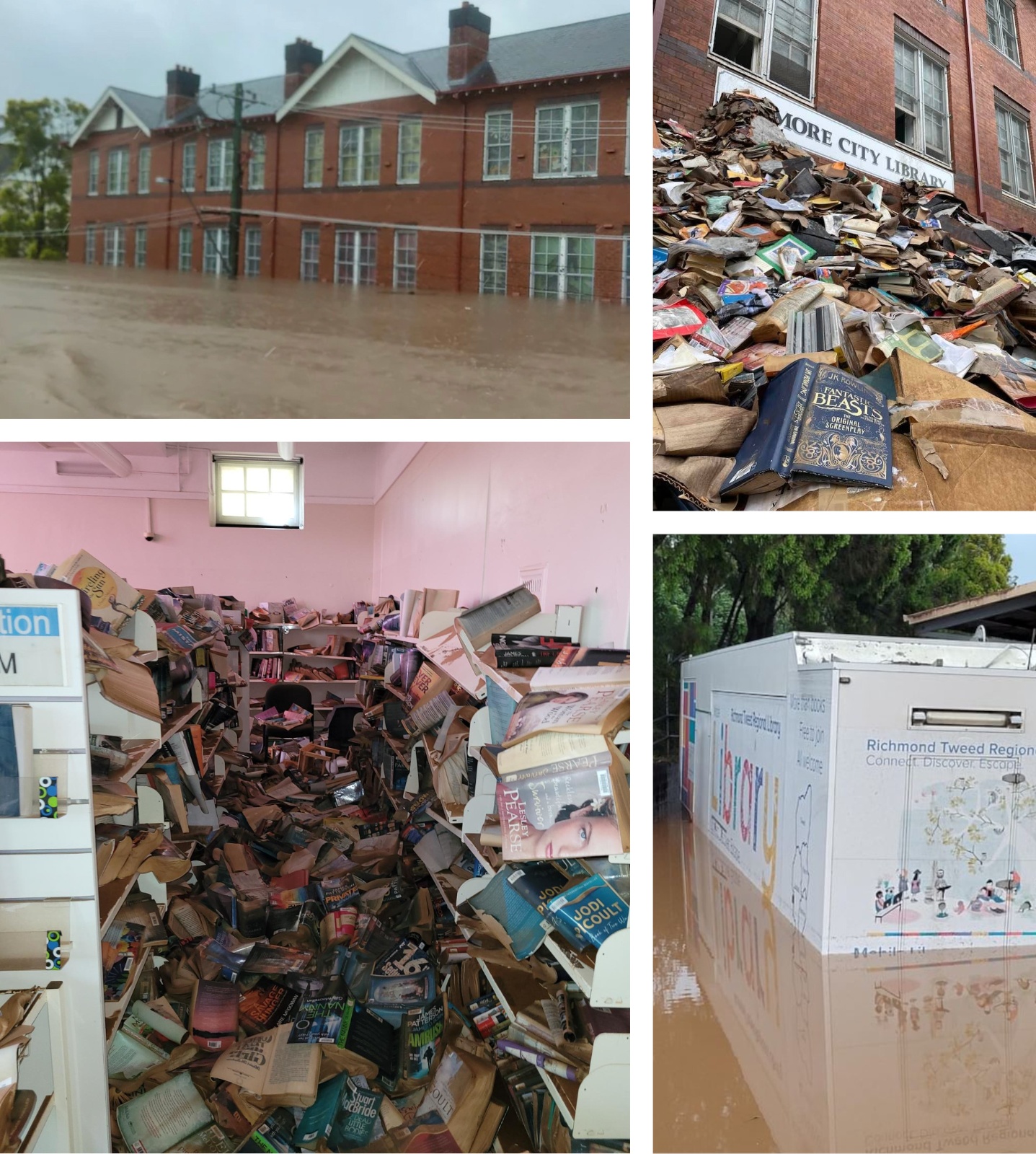 We're receiving many kind offers of donations following the record-breaking flooding across the region and the resulting devastation. This page details how best to donate new and near-new books and how to support your libraries by financial donation.
Our library collections affected by the recent flood are as follows:
• Adult Fiction
• Large Print Books
• Junior & Young Adult Books
• Children's Story Books
• Children's DVDs
• Jigsaws
• Audio Books
• Parenting Collection (non-fiction books on parenting topics)
• Junior Non-Fiction Books

Ways to donate
We've been overwhelmed with love and support shown to our libraries through physical book donations. refurbishment is still ongoing and library storage is at capacity. As such,
we're currently not accepting any new book donations
.
You can still make a monetary donation or purchase a book of your choosing for our libraries from one of our flood recovery partners (listed below). Thank You!
Donate library items in person
If you would like to donate any new or near-new books from any of the above categories, we would be incredibly grateful. Donations can be made to the following location between 9.30am and 3pm, Monday to Thursday:

Richmond Tweed Regional Library
Support Services
6 Centenary Drive
Goonellabah NSW 2480

02 6625 5100

Google Maps navigation

Goonellabah Library is unable to accept donations at this time, due to their extremely limited space. The library Support Services location listed above is just a few blocks away.
Monetary donation
100% of financial donations go to rebuilding libraries impacted by storms and flooding across the region. Please make donations to the following Richmond Tweed Regional Library gift account:
---
Account Name
Lismore City Council-RTRL Tax Deductible Gift Recipient Account
BSB
062-565
Account Number
10864916
---
Please email
admin@rtrl.nsw.gov.au
when you make your donation with the following information:
• Name
• Address
• Date of deposit
• Amount of deposit
Your email will allow us to match up your payment and give us somewhere to provide a tax deductible receipt. Contact from us in receipt of your payment may be delayed at this time, but we'll respond as soon as we can.
Donate library items via one of our flood recovery partners

James Bennett (our leading library supplier) through the Love to Read portal
James Bennett has committed to donate time and resources to making sure donated books are serviced to library standard and books are ready to lend as soon as they are delivered to the library. They aim to get the right books into the hands of readers as quickly as possible, freeing up librarians to do what we do best, supporting our communities during difficult times.
Step 1: Visit
www.lovetoread.com.au/pages/6064-RICHMONDTWEEDREGIONALLIBRARYFLOODRELIEF
Step 2: Browse and add book/s to your cart
Step 3: Proceed to checkout
Step 4: Set up a new customer account OR log in if you're a returning customer
Step 5: Add the James Bennett address as the delivery address for your book/s:
Attention: Richmond Tweed Regional Library Flood Relief
James Bennett Pty Ltd
U3 / 114 Old Pittwater Road
Brookvale
NSW 2100
Step 6: Continue to payment options
The Book Warehouse
Our very good friends at The Book Warehouse are taking orders for donations to the library. Call any of the numbers below and they'll be glad to assist over the phone.
The Book Warehouse Lismore
02 6621 4204
The Book Warehouse Ballina
02 6686 0917
The Book Warehouse Grafton
02 6642 5187
The Book Warehouse Coffs Harbour
02 6651 9077
We thank these partners for their generous support.
Any donations excess to our needs will be used to support our communities.
THANK YOU sincerely for your kind donation!
---
All the latest news from your library more
---
---