Little Bang Discovery Club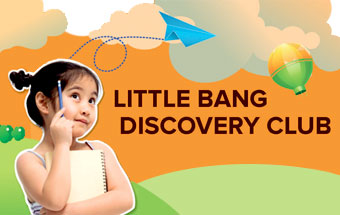 Little Bang Discovery Club is a science program from the Children's Discovery Museum. It is specifically for preschool and early primary aged children, with an adult co-learner.
Lismore Library will be presenting this as an online event with four consecutive sessions (one per week) via our YouTube channel. They can be viewed by clicking on the link posted on the Library Facebook page each Wednesday afternoon.
The sessions are:
Session 1
Collecting and Classifying
Wednesday 13 May at 3pm
Session 2
Measuring and Recording
Wednesday 20 May at 3pm
Session 3
Experimenting
Wednesday 27 May at 3pm
Session 4
Science Fair
Wednesday 3 June at 3pm
The actual online content runs for 10–20 minutes, and can be paused and restarted as required to allow time for activities and to talk to your child about what they are doing.
Each week there will be an extension activity, which is a simple exercise to do between sessions. The sessions will have a group feel through sharing drawings, photos and observations at the following week's session.
Send your drawings, photos and observations to lismore@rtrl.nsw.gov.au. They will need to reach us by the Monday to be used in the next Wednesday session. Please only forward pieces you are happy to see on social media.
Resource List
You will need to assemble a Discovery Box in time for session 2. Most of the items for this should be able to be found around the house. There are also a few extra items that you will need for experiments in sessions 3 and 4.
Pre-session information sheets (available via the links above) help set out the learning outcomes and the resources that will be required for that session, as well as anything that needs to be prepared for the following session.
You can also download the information sheet for carers, HERE.
Survey Monkey: We would really appreciate if you could take the time to send us feedback even if you don't complete all of the sessions. This will give us an idea of how many people participated, and help us to improve the program for future groups. Take the Survey HERE
If you have more immediate feedback or questions, please phone the Lismore Library on 02 6621 2464 or Annette by email lismore@rtrl.nsw.gov.au.
---